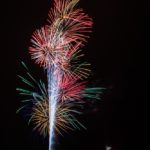 For those of us who live in Berks County, the Pagoda that sits atop Mt. Penn is one of our most popular landmarks. For photographers, it is a great place to photograph any time of day, and any time of year. Having grown up in Reading and living here for more than 30 years, I have visited and photographed this location dozens of times. But New Year's Eve last year was the first time that I was out at midnight, ringing in the New Year photographing the fireworks display above the Pagoda that has taken place annually since 1998. The tradition began that year as we celebrated the 250th anniversary of Reading, PA. I'm not one that readily enjoys cold weather, so being out at midnight in the cold has not been on my list of fun things to do-although it was on my Photo Bucket List. Last year the temperatures were warmer than normal, so 40+ degrees seemed like a great time to get out with a group from a local camera club and check another item off my list. From our location on an opposing mountain, a strong wind was blowing, making it feel much colder than it was-and causing the fireworks to fan out to the side. The show lasts about 15 minutes, but the burst are continuous, colorful and gorgeous over the red glowing lights of the Pagoda.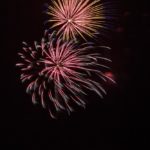 Equipment: You need to use a tripod. Get over it and move on. Maybe you did get lucky once or twice photographing fireworks with your cell phone, but that's all it was-luck. If you want a great, sharp image of fireworks, your camera needs to be mounted on a sturdy tripod. You will also need a cable release to trigger the shutter. I find using a wireless remote cumbersome when trying to photograph the spontaneity of fireworks displays, so I only use a cabled remote that plugs into the camera. You will then want to shoot in Bulb Mode, which allows you to keep the shutter open as long as you want.
The procedure I use is the same that I always use to shoot fireworks. Aim the camera in the general direction that I believe the fireworks will go off in. Use a focal length that will allow for plenty of room in the frame-you don't want your fireworks to be cut off or extend out of the frame. Set your ISO to 100 or 200, and start with an aperture around f/11. You will most likely have your camera mounted for vertical images. You could also shoot horizontally, but you will need to leave much more room in the frame, which in this case will render the Pagoda very small. When you hear the burst go off,  open the shutter by pressing the button on the cable release. As the burst dissipates, I cover the lens with a dark-preferably black baseball cap-if I was sharp enough to remember to bring one;) Because I have forgotten so many times, I just keep one in the trunk of my car. I cover the lens in between bursts with the hat, because I like to have several fireworks bursts in each frame. Some people use Photoshop to put several bursts together in one image; I prefer to do it right in camera. If you were to leave the lens open for several bursts without covering the lens, then anything that is lit-in this case the Pagoda, will receive too much light and be over-exposed. So, open the lens for first burst, cover with hat, pull hat away just before next burst explodes. If you were lucky enough to have the bursts open at different points in the sky so they were not overlapping one another, then keep the lens open for a third burst, then close. After three bursts, it is likely that the next will overlap an area that was already covered, and will not work as well for the image. If the second burst overlaps the first in the same area of sky, I just close the shutter and start again.
When it's finale time, the real challenge begins. Fireworks burst during the finale tend to overlap one another a lot. Once the finale starts, I close the lens down at least one to two more stops, and close the shutter much more quickly. It's a technique that takes a good amount of practice, but can yield some awesome results.
Due to the confinements of inserting images within this post, images are shown as squares instead of their actual dimensions. Please click on images to see full frame.
Whether you are out shooting fireworks or cozied up inside, have a safe New Year's Eve, and blessed year to come!