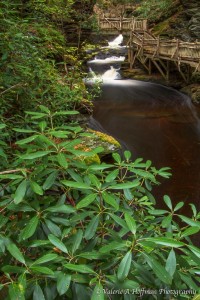 New Date Coming Soon!
Location: Bushkill Falls,
Bushkill Rd, Bushkill, PA 18324
Cost: $99, includes admission
High in the uplands of the Pocono Mountains of Northeastern PA, streams of crystal water bubble up through rifts in primeval rock. These are the headwaters of Bushkill Creek, which rush into the beautiful Bushkill Falls area.
Known as the "Niagara of Pennsylvania," Bushkill Falls is among the State's most famous scenic attractions. This unique series of eight waterfalls, is accessible through a network of hiking trails and bridges which afford fabulous views of the falls and the surrounding forest.
This Trek is being (hopefully) timed to catch the bloom of the gorgeous Rhododendrons that grace the trails of the park.
The trails throughout Bushkill Falls are mostly boardwalks which include stairs. One part of the trail we will use requires an approximate 100 step climb. Participants should be able to walk about 2 miles total with several stair climbs along the way.
The workshop will be rain or shine. In case of severe weather, we may need to postpone. Information will be communicated to each participant if this occurs.
Recommended Gear: DSLR with fully charged and spare batteries, plenty of memory cards, tripod with cable release or wireless remote, wide angle zoom lens in range of 18-200 if available to you, but you can work with whatever range you have. Lens hood and circular polarizer for each lens.
Cancellation Policy: If you will not be able to attend you MUST contact us immediately. Two (2) weeks notice is required to receive a full refund. 75% refund of the workshop fee will be refunded with only one (1) weeks notice. NO refund will be given if less than one (1) weeks notice is given, unless we are able to fill your spot. We reserve the right to cancel the workshop at our discretion. If we cancel, a full refund will be given. Photographs may be taken of participants during the workshop to be used for advertising purposes.