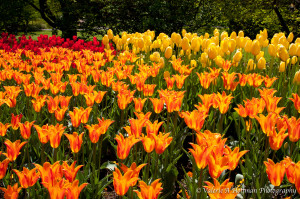 Saturday, April 26, 2014, 8:45 am – 1pm
Location: Longwood Gardens
1001 Longwood Rd, Kennett Square, PA 19348
Cost: $75, includes all-day admission to gardens and conservatory
Longwood Garden Pass members will receive a discount off registration. Please contact me directly for more info.
In April, Longwood Gardens comes alive with spring bulbs and tulips in rainbows of color. Watch as spring color seemingly explodes to paint the landscape in vibrant hues. Tulips, daffodils, dogwoods, wisteria and more herald spring's arrival indoors and out. Breathe in the fresh spring air and relish the beauty as we photograph in the Idea Garden and Flower Garden Walk, where more than 240,000 tulips burst into bloom!
This Photo Trek will focus on learning to see creatively by composing gorgeous images of the grand landscape, as well as getting up close and personal with the amazing details before our eyes. Among the many techniques discussed will be how to creatively compose images to bring out the character of the subject, using fill flash and diffusers to control harsh light, and the use of circular polarizers to deepen color saturation. We will work with a variety of close up accessories including filters, lenses, extension tubes and more.
Recommended Gear:
DSLR with fully charged batteries and lots of memory. Tripod and cable release. Circular polarizer. Macro lens or close up accessories-helpful, but not necessary. Knee pads
Cancellation Policy:
If you decide you will not be attending you MUST contact us immediately.
Two (2) weeks notice is required to receive a full refund. 75% refund of the Trek fee with only one (1) week notice. NO refund will be given if less than one (1) week notice is given for cancellation.
We reserves the right to cancel the Trek at our discretion.
Photographs taken on this Trek may be used for commercial advertising purposes.